London Market Photography Winners
We believe London boasts some of the most diverse and interesting markets in the world and we asked you to prove it using the power of photography.  These are our I Love Markets London Market Photography Winners from 2013. 
We are pleased to announce the winners and runners up. Judged by Ronojoy Dam, UK Creative Director of VICE, the photos selected below will appear as part of our curated I Love Markets Photo Exhibition being held this Sunday May 5 at MARKETS UNITED, Shoreditch Town Hall Basement, FREE entry, Midday-9pm. Thank you to everyone who submitted entries. We hope to find more news homes for this exhibition over the coming months. Do come and check out the exhibition on Sunday where they'll be market stalls, photography, art, live music and more!
The Winner! 1st Prize
Ivan Angell, "Dance like no one is watching"
I Love Markets Photography Competition Winner, Ivan Angel, Brick Lane Market, "Dance like no one is watching"
Ivan says:
"Brick Lane market is a constant inspiration for me. Around every corner is a marvellous expression of creativity. In this image the moody sky just adds to the drama of this sculpture adorning the skyline."
Ronjoy Dam's Comment:
"This photo manages to capture grey British realism with a burst of colourful surrealism. The photographer has looked where others aren't, and been rewarded for it. The dancer looks like it might even have been drawn on as an afterthought."
2nd Prize
Motoko Fujita, "South East London's Diamond"
I Love Markets Photography Competition Winner, Motoko, Deptford Market
Motoko says: "Come down for a wander and you are bound to find a little something nice in that pile of junk at Deptford Market."
Ronjoy Dam's comments: "The colours from film always give a more special and everlasting memory. The scene is simple, but the soaring bird gives something everyday a sense of the epic."
3rd Prize
Dan Baiton, "Three legged dog at the market"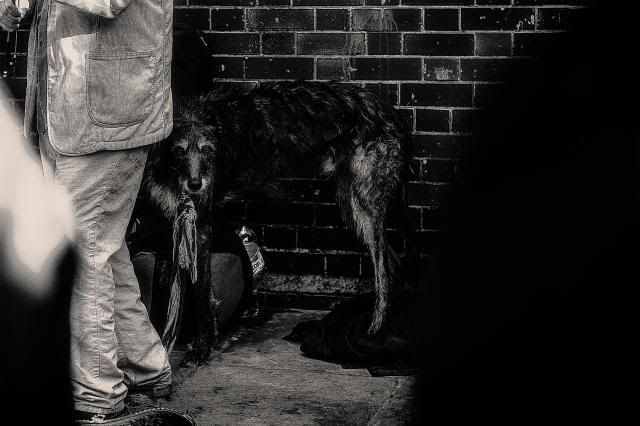 I Love Markets Photography Competition Winner, Columbia Road Flower Market, DanBaiton
Dan says: "Taken at Columbia  Road Market. An energetic street band were performing and they'd brought along their charismatic dog – who unfortunately had a leg missing.  The street band brought in a very large crowd,  and the shot was taken through the gaps of some of the audience, and luck had it that I was able to capture this image of the dog looking straight towards the camera."
Ronjoy Dam's Comments: "There's something timeless about the grain, contrast and scene of this picture. Was it taken last week or at the start of the last century? And with it it's about observing the unobserved, which makes it special."
Runners Up
Miles Kirby, "Hats With Feathers on Easter" Brick Lane
I Love Markets Photography Competition Runner-Up, Miles Kirby, Brick Lane Market
Ronjoy Dam's  Comments: "This sums up the joy, community, internationalism and exoticism of markets"
Bella Horwood, "Leroy says no!"
I Love Markets Photography Competition, Runner Up Bella Horwood, Brixton Market
Bella says:
"This photo was taking at Brixton Market. I think that the man in this photo has an interesting character which shows in his face and clothes. I like that when you look to the left of the photo you can see people moving in and out of the photo, representing the business of market life. This is contrasted by the image of the man with his bill-board with his messages. It made me wonder about how many people had actually noticed him, or read his messages."
Ronojoy Dam's Comments: "Like Patti Smith said, "People have the power."
Jaxetta Photography, "Portobello Market at dusk"
I Love Markets Photography Competition Runner-Up, Portobello Road Market by JaxEtta
Ronoy Dam's comments: "The colour spread of black and white and colour makes this scene as ethereal as a dream."
The Prizes!
Judged by Ronjoy Dam, UK Creative Director of
VICE.
First Prize-
Custom build Fixie from
Full City Cycles
plus,one month's free trading at
Netil Market
, Hackney
Second Prize– £100 to spend at the Camden Blues Kitchen
Third Prize– 3 Personal Fitness Sessions at Bamboo Fitness plus,
a signed copy of the new Manu Chau Biography by Peter Culshaw
If you interested in hosting our London Market Photography exhibition
Search Markets
You might have missed….
Whats On
Sort Options
-
-
-
-
1
2
3
4
5
6
7
8
9
10
11
12
13
14
15
16
17
18
19
20
21
22
23
24
25
26
27
28
29
30
31